m

Line 10:
Line 10:
 

==Behind the scenes==

 

==Behind the scenes==

 

* The appearance of a box of Kellogg's Cocoa Krispies in the McFlys' kitchen was an act of [[product placement]].

 

* The appearance of a box of Kellogg's Cocoa Krispies in the McFlys' kitchen was an act of [[product placement]].

 
+

* Two other Kellogg's breakfast cereals are also visible behind the Cocoa Krispies box, but the product names are almost completely obscured on-screen.

 
 
 

==Appearances==

 

==Appearances==
---
Revision as of 13:22, 5 May 2020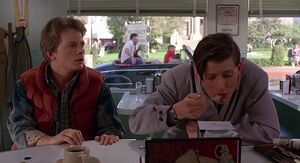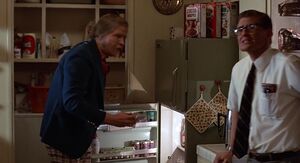 Kellogg's, or the Kellogg Company, was a manufacturer of breakfast cereals in 1955 and 1985.
History
George McFly was eating a bowl of Kellogg's Rice Krispies in Lou's Cafe on the morning of November 5, 1955.
A box of another product within the Kellogg's Rice Krispies range, Cocoa Krispies, was present in the kitchen at the McFly residence in 1985, on top of the refrigerator.
Behind the scenes
The appearance of a box of Kellogg's Cocoa Krispies in the McFlys' kitchen was an act of product placement.
Two other Kellogg's breakfast cereals are also visible behind the Cocoa Krispies box, but the product names are almost completely obscured on-screen.
Appearances
See also
External links