LEGO Dimensions is a LEGO action-adventure video game developed by Traveller's Tales and published and distributed by Warner Bros. Interactive Entertainment, for the PlayStation 4, PlayStation 3, Wii U, Xbox One, and Xbox 360. It follows multiple characters from various LEGO franchises after a masked villain breaks into multiple worlds. It follows the "toys-to-life" format, in that the player has LEGO figures and a portal which can be played within the game itself. ,
BTTF's role in LEGO Dimensions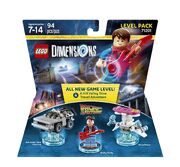 Other BTTF actors in LEGO Dimensions
Though they don't voice any characters from Back to the Future in the game, the other actors include:
New BTTF actors in LEGO Dimensions
The following voice actors not having been a part of previous BTTF productions, but having taken over some roles include:
Notes
Doc Brown in LEGO Dimensions has a new hairpiece which is exclusively made for him and different than the one supplied in the LEGO Back to the Future Time Machine set.

The hairpiece was later used as the hairpiece for the Betelgeuse LEGO Dimensions-exclusive minifigure.
Sources