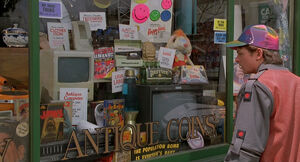 LJN was a toy and video game company that produced and published video games for the Nintendo Entertainment System. Two games based on the Back to the Future movie series, Back to the Future and Back to the Future Part II & III, were released by LJN.
LJN also released video games based on several other movies. A product placement for LJN was in Back to the Future Part II, where Jaws, another game produced by LJN, was seen in the store window of Blast from the Past.
Reception
LJN games in general tended to be frowned upon by many gamers. James Rolfe/The Angry Video Game Nerd covered both games in his 6th and 94th episodes.
Bob Gale in particular wanted to collaborate on the first BTTF game by the company, only to be turned down. Upon seeing the finished product, Bob was disappointed by it so much that he discouraged fans from the game, recommending they save or spend their money elsewhere (linking to Episode 6 of the AVGN series to demonstrate his criticism).[1]
Gallery
External link
Community content is available under
CC-BY-SA
unless otherwise noted.