Lea Katherine Thompson
(born May 31,
1961
in Rochester, Minnesota,
US
) is an American actress who portrayed
Lorraine Baines McFly
in all three movies of the
Back to the Future trilogy
, as well as
Maggie McFly
in
Back to the Future Part III
.
Biography
Lea Thompson was born in Rochester, Minnesota, on May 31, 1961, nine days earlier than Back to the Future co-star Michael J. Fox.
Interestingly, Thompson was the youngest of five children, whereas Lorraine is the oldest of the five Baines children seen in 1955. According to her imdb.com biography, she performed ballet and made 45 appearances for various companies, before quitting the field at age 19 after an unsuccessful audition before Mikhail Baryshnikov. She turned to acting, and made her film debut in Jaws 3-D in 1983, followed by roles in All the Right Moves (1983), Red Dawn (1984), and The Wild Life (1984).
The Wild Life was the first of three films in which Thompson worked with actor Eric Stoltz. Thompson and Stoltz filmed some scenes together for Back to the Future in late 1984, as Lorraine Baines and Marty McFly, including Marty waking up in 1955. After Stoltz was fired from the film, Thompson reshot the scenes with Michael J. Fox. Thompson appeared with Stoltz again in 1987's Some Kind of Wonderful, directed by Howard Deutch, whom she married in 1989.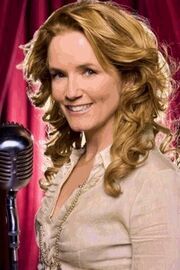 After appearing in Part II and Part III of the Back to the Future trilogy, Thompson was cast as the mother of the 5-year old title character in 1993's Dennis the Menace. Christopher Lloyd was the villain in the same film; as in most of the trilogy, the two actors did not appear on-screen at the same time; the exception being when Lorraine followed Marty to Doc's home in Part I.
Lea Thompson achieved star billing in the title role of the NBC television series Caroline in the City, which ran for three seasons from 1995 to 1998. The only BTTF trilogy actor to appear on the comedy was Sean Gregory Sullivan (who had been part of Buford's gang in Part III). She was given top cast billing in the 2008 film, Exit Speed.
She briefly reprised her role as Lorraine McFly in both the Robot Chicken episode "Major League of Extraordinary Gentlemen" & the Family Guy episode "Finders Keepers". Lea later voiced a Lorraine lookalike in the Family Guy episode "JOLO" in 2015.
See also
External links
Community content is available under
CC-BY-SA
unless otherwise noted.