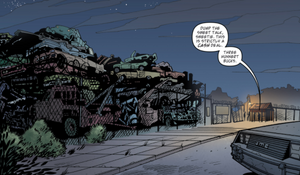 Lee Bros. Towing & Repair was a vehicle towing and repair service in Hill Valley in 1986.
History
The towing service towed the steam time car to their yard after Dr. Emmett Brown, who had amnesia, crashed it into a STOP sign, believing it to be an abandoned vehicle, leaving a company flyer attached to the sign (with what appeared to be a piece of chewing gum) to let the owner know where the car was towed.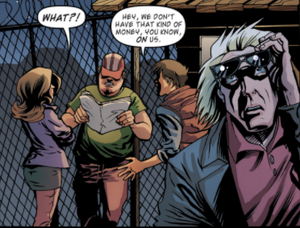 At the towing service, Marty McFly, Jennifer Parker and Doc discovered that one of the employees, Jack, already had a buyer for the car, but said he would sell it to them instead for $300 — leaving them until the end of his shift at 12:00 midnight to come up with the money.
Not having the money and with no way to get hold of it by midnight, Marty, Jennifer and Doc sneaked into the lot and found the steam time car still hooked up to the tow truck, where Marty decided there and then to steal both truck and car. When Douglas J. Needles arrived in his Ford F-150 truck and challenged Marty to a race, the winner of which would take the steam time car, Marty refused. Needles then threatened to destroy the steam time car so Marty couldn't have it, resulting in a chase that culminated in Needles crashing into a delivery truck loaded with boxes of eggs.
Appearances
See also
Community content is available under
CC-BY-SA
unless otherwise noted.