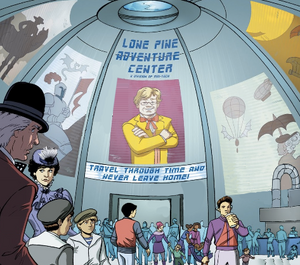 The Lone Pine Adventure Center was a tourist destination in Hill Valley that was run by MAI Tech in 2038. It offered robotic and holographic recreations of different literary views of historic eras.
History
The Brown family arrived at the Lone Pine Adventure Center in the Jules Verne train in 2038. Emmett Brown had wanted a controlled environment for his sons, Jules and Verne, after Verne stowed away in the DeLorean time machine in 2017, and was subsequenty kidnapped by Griff's gang.
Things didn't go as planned, however. Doc's wife, Clara, was disappointed that the future exhibit was based on 19th century fantasies about the future, as she had wanted to see the real thing. Meanwhile, Jules and Verne caused several robots to break free from the various exhibits after they mistook a holographic x-ray photographer for a thief. After this, the Browns left the Lone Pine Adventure Center and traveled back to 1985 to reunite with Marty and Jennifer.
Appearances
Community content is available under
CC-BY-SA
unless otherwise noted.