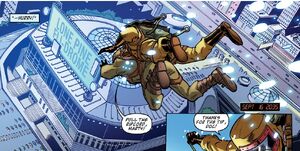 The Lone Pine Fli-Drome was an arena in Hill Valley in the year 2035. In October of that year, it was set to host the Fli-Derb Western Regional Championships.
Much like Lone Pine Mall, the Lone Pine Fli-Drome was named for the ranch that existed on the same spot 80 years before.
History
On September 16, 2035, the Fli-Drome had two unexpected visitors — Emmett Brown, wearing a diving suit; and Marty McFly, wearing a radiation suit. Traveling via the time parachute, they smashed through the building's glass ceiling into the arena itself. They broke another window as they made their escape on a stolen fli-blade.
Appearances
Community content is available under
CC-BY-SA
unless otherwise noted.