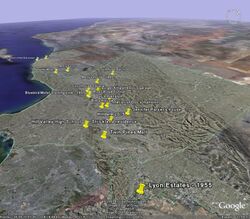 Los Angeles, California is the home of Universal Studios, its theme park Universal Studios Hollywood and the Universal Studios Backlot. The city also has a professional American football team, the Los Angeles Rams. One of its most well-known districts is Hollywood, which has become the common term for the motion picture industry in the United States.
In an alternate timeline, Biff Tannen received a sports almanac detailing fifty years of sports statistics from his older self. Since he was only seventeen, he couldn't bet, so on November 13, 1955, he gave money to his grandmother to bet on the Chicago Bears. She didn't bet on the Bears, and they won against the Los Angeles Rams, making Biff twenty dollars poorer. Biff told her to make another bet, on the Washington Redskins. However, when they beat the San Francisco 49ers, she only gave Biff back his twenty dollars, and kept the rest for herself. When Gertrude claimed Biff was as greedy as his father, Biff stated that he learned that from her.
Behind the scenes
Many scenes of the Back to the Future trilogy were filmed around the Los Angeles Basin, including scenes filmed in Pasadena, South Pasadena,

Burbank

,

Oxnard

,

Port Hueneme

,

Whittier

,

Pacoima

,

Arleta

, and

Chino

. Scenes for Back to the Future Part III were filmed in Northern California.
In reality, the Washington Redskins did win against the San Francisco 49ers on November 13th, 1955.
Locations within the city of Los Angeles filmed
See also