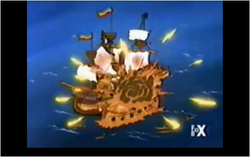 Mac the Black's pirate ship was originally the flagship vessel of the Spanish Fleet. The Spanish Armada sought out Mac to recover the ship.
History
While Marty McFly was forced to work on the deck of the ship, he formulated a plan with Verne Brown to escape that resulted in the destruction of the ship, via a cannonball that was fired straight upward and fell back towards the ship. Afterward came the capture of Mac by the Spanish Armada, with the assistance of secret agent Maria.
Appearances
Community content is available under
CC-BY-SA
unless otherwise noted.