---
Futurepedia is the Back to the Future Wiki, and we are dedicated to providing detailed information on the movie trilogy, the animated series, and all other continuity. We are a community of fans, and we welcome those who wish to help improve and expand Futurepedia for all to enjoy.

Start here to explore the BTTF Universe in images.
Futurepedia now comes in 4 flavors: En, Es, Ja, and Nl

---
In-universe:

Out-of-universe:
---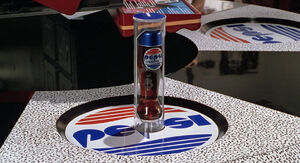 Pepsi Perfect
Pepsi Perfect was a vitamin-enriched variety of Pepsi cola that was sold at the Cafe 80's in 2015. It was sold in bottles that had a lid with a built-in straw. However, when Marty McFly had first seen the soft drinks container, he was perplexed as to how exactly he was supposed to open it. Doc Brown had given Marty a $50 bill to purchase the soda.



---
hello how are you back to the future world can we ask universal pictures to do a back to the future animated series and live action series
See more >

---
Back to the Future: The Game

---
Marty: "The future, that's where you're going?"
Doc: "That's right, twenty-five years into the future. I've always dreamed of seeing the future, looking beyond my years, seeing the progress of mankind. I'll also be able to see who wins the next twenty-five World Series."
— Doc's original motivation to see the future is now history
---
---
To create a new Back to the Future article, simply enter it's title in the box below.
<createbox> </createbox>
If you are new to wikis, please take a moment and visit the tutorial on the Central Wikia
A list of all help pages can be found at Category:Help
---
All rights reserved. Back to the Future™ is a trademark of Universal City Studios, Inc. and Amblin Entertainment, Inc.