Line 13:
Line 13:
 

*''[[Back to the Future]]''

 

*''[[Back to the Future]]''

 

*''[[Back to the Future Part II]]''

 

*''[[Back to the Future Part II]]''

 
+
 
+

==Behind the Scenes==

 
+

*The Starlighters were played by Harry Waters, Jr. (as Marvin), Tommy Thomas, Granville "Danny" Young, David Harold Brown, and Lloyd L. Tolbert.

 
+

*The band "Joey Dee and the Starliters" (with a somewhat different spelling) would have a #1 hit in early 1962 with the song "The Peppermint Twist".

 
 
 

==References==

 

==References==
---
Revision as of 02:49, 24 May 2008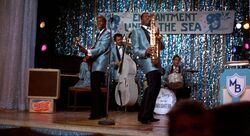 Marvin Berry & the Starlighters was a band led by Marvin Berry. They performed at the Enchantment Under the Sea dance on November 12, 1955. Marvin played the guitar and was the lead vocalist, while another member, Reginald, played the drums. The other three played the piano, the bass fiddle and the saxophone. The band took a break shortly before 9:00 in the evening, and went out to Reginald's car to smoke. When Marty McFly was locked in the trunk of their car during their break, Marvin sliced open his hand attempting to get him out. This caused Marvin to call it a night, since he couldn't play guitar with an injured hand; however Marty stepped forward to continue the dance.
After "Earth Angel", the band joined Marty him in an upbeat tune that was to be a rock 'n' roll classic, "Johnny B. Goode". However, as Marty segued over to heavy metal, the Starlighters gave up on trying to figure out where he was going, and Marty concluded the act on his own, to the confusion of the audience.
Songs
The Theme from Three Coins in the Fountain [1]
Appearances
Behind the Scenes
The Starlighters were played by Harry Waters, Jr. (as Marvin), Tommy Thomas, Granville "Danny" Young, David Harold Brown, and Lloyd L. Tolbert.
The band "Joey Dee and the Starliters" (with a somewhat different spelling) would have a #1 hit in early 1962 with the song "The Peppermint Twist".
References