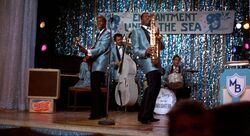 Marvin Berry & the Starlighters was a band lead by Marvin Berry. They performed at the Enchantment Under the Sea dance in 1955.
When Marty McFly was locked in the trunk of their car during their break, Marvin sliced open his hand attempting to get him out. This caused Marvin to call it a night since he couldn't play guitar, however Marty stepped forward to continue the dance.
After "Earth Angel", they joined him in an upbeat tune that was to be a rock'n'roll classic, "Johnny B. Goode".
Songs
Appearances