May 15th is the 135th day of the year.
Events
1986, Thursday (Sometime after 12:00 PM)[1]: Marty and Doc return from 1931, where they discover that they have altered the timeline since they stopped Edna from burning down Hill Valley in 1876, and got her arrested. They discover Edna is married to Kid and are about to go into Doc's garage only to be visited by three future counterparts to Marty (Each with a different Delorean).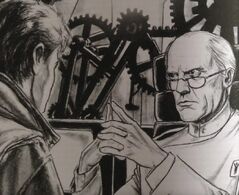 1986B, Thursday (2:15 p.m): Marty returns from 1931, only to crash the DeLorean into a billboard, find that Doc has vanished, and that he is in, yet again, an alternate timeline. This leads Marty to:

Convince an alternate Jennifer to help him out of the crashed DeLorean
Talk to several people about the alternate timeline
Do three things to get in trouble, in hopes of seeing Citizen Brown (Alternate Doc):
4:10 p.m.: Marty has an interview with Citizen Brown, in hopes of convincing Brown that he is from alternate timeline, and that everything is messed up (ala, Brown should be a scientist, not a mayor). The interview is unsuccessful.
4:30 p.m[4]: Alternate George cleans the playback heads of his tapes, and is attacked by a brain-washed alternate Biff shortly there-after.
5:03 p.m.: Marty confronts Biff, leading him to finding Edna's lair, where he fights a brain-washed Biff, and confronts Edna about what she's doing with the Citizen Plus Program. Citizen Brown finds them, and is furious with Edna, and is ashamed of what he has allowed to happen. This leads to Marty being able to convince him that he is telling the truth, and Brown agrees to go along with his plan. However, both Marty & Brown are soon captured by Edna.
Appearances
Reference