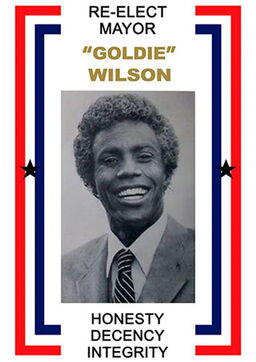 The title of Mayor of Hill Valley has changed many hands over the history of the town. In their time travels, Marty McFly and Dr. Emmett Brown observed evidence of four different mayors.
In 1885, a man named Hubert was the town's mayor, who asked Doc to help bring the new schoolteacher, Clara Clayton, from the railroad station to the schoolhouse. He also presided over the ceremonies at the Hill Valley Festival, including the starting of the clock that would be placed in the courthouse's clock tower. Marty did not remain in 1885 long enough to learn Hubert's surname.
Seventy years later, Red Thomas was mayor, and was facing re-election in 1955. Posters with his picture were seen around town and on the side of a campaign vehicle with loudspeakers that promoted his re-election on November 5 of that year.
In 1985, Goldie Wilson was mayor, and was also facing re-election that year. Goldie's picture was on the side of a campaign vehicle that drove through town on October 25. After traveling to 1955, Marty met Goldie as a young man working as a busboy at Lou's Cafe.
Finally, in 2015, Goldie Wilson Jr. was facing re-election as mayor. Although he was not seen, his name was shown below that of the town on the hovering "WELCOME TO HILL VALLEY" greeting sign ("GOLDIE WILSON jr. / MAYOR") and also on posters promoting the candidacy of "Wilson Jr."
Behind the scenes
Apparently, mayors of Hill Valley served for five-year terms.
There are no signs in 1955, 1985 or 2015 for a candidate running against the incumbent mayor, although both Thomas and the first Wilson are actively campaigning.
Appearances