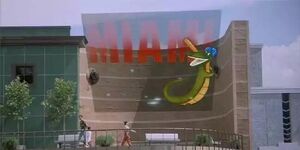 "Against Miami?"
—Marty McFly upon seeing the holo-display announcing the news.
Miami's Major League Baseball team competed in the 2015 World Series against the Chicago Cubs, who swept Miami in five games. The team's nickname is not mentioned, only referred to simply as "Miami." However, the team logo depicts a baseball-playing alligator.
Miami's team is presumably an American League team, having played against the National League's Chicago Cubs in the World Series. However, this may not necessarily be true, as Major League Baseball may have undergone some sort of restructuring by 2015, as evidenced by the contemporary World Series being a best-of-nine series instead of a best-of-seven.
Behind the scenes
As Miami did not have a Major League Baseball team in 1985, Back to the Future Part II correctly predicted that the city would host a team by 2015. In 1991, Major League Baseball awarded a Miami-based National League franchise to owner Wayne Huizenga. This team, the Florida Marlins, began play at Joe Robbie Stadium in Miami Gardens in 1993. In 2012, the Marlins moved to a stadium within Miami city limits and changed their name to the Miami Marlins. However, as both Miami and the Chicago Cubs play in the National League, any chance of the two teams meeting in the 2015 World Series is an impossibility, unless one of the teams were to move to a different league (as the Milwaukee Brewers did in 1998, when they went from the American League to the National League, and as the Houston Astros did in 2013, moving from the National League to the American League).
On July 3, 2015, Back to the Future's 30th anniversary, Chicago Cubs hosted the Miami Marlins at Wrigley Field, in a game in which Miami won 7-3.
The Marlins did in the 2015 season a season-long "#RewriteTheFuture" campaign, with plenty of Back to the Future shout outs. Opening night had the social media team and mascot arriving in a DeLorean, a three-game homestand against the Cubs in June had a giveaway of T-shirts featuring the baseball-playing alligator, and "Back To The Future" Night on September 25 was attended by Bob Gale and Claudia Wells, while having giveaways of bobbleheads of Marlins' mascot Billy dressed as Marty McFly. On October 21, the Marlins also changed their social media pictures to the alligator.
The Cubs would actually win the World Series a year later, in 2016, however, this time defeating the Cleveland Indians instead. The Marlins managed came third in the National League East Series and seventh in the National League Wild Card.
Appearances