Michael Jackson in 1982.
Michael Joseph Jackson
Biographical information
Date of birth
August 29, 1958
Age (1885)
Not born yet
Age (1955)
Not born yet
Age (1985)
27
Age (2015)
57
Physical description
Gender
Male
Hair color
Black
Eye color
Brown
Behind-the-scenes information
Played by
E. Casanova Evans

  [Source]
"My main love for what I do is the admirers. I love the fans. Like when I'm doing a show and see the fans out there dancing and screaming, excited, and we're bringing joy to them, that's what I love most. And it's just the greatest feeling in the world. You're up there and you're giving them that energy and that love and they're just throwing it back at you. And it's great. And that's my main love, the stage and making those admirers happy."
—Michael Jackson
Michael Joseph Jackson (born August 29, 1958 in Indiana) is an American musician who became an internationally recognized pop star during the late 20th century, releasing such hits as "Billie Jean" and "Beat It". Referred to as the King of Pop or by his initials MJ, Jackson is the most awarded individual music artist in history. His sound and style have influenced artists of various genres, and his contributions to music, dance, and fashion have made him a global figure in popular culture for four decades. Through stage and video performances, he popularised complicated dance moves.
Michael Jackson made his professional debut in 1964 with his elder brothers Jackie, Tito, Jermaine and Marlon as a member of the Jackson 5 (later known as the Jacksons), before becoming a solo star. He began a solo career with Motown Records in 1971 while still a member of the group, but left Motown in 1975 to join Epic Records. At Epic, Michael became a solo star with his 1979 album Off the Wall and achieved further success with his 1982 album Thriller, which became the best-selling album of all time.
Jackson is one of the best-selling music artists of all time, with estimated sales of 1 billion records worldwide. His honours include 15 Grammy Awards, 6 Brit Awards, a Golden Globe Award and 39 Guinness World Records, including the "Most Successful Entertainer of All Time". Jackson's inductions include the Rock and Roll Hall of Fame (twice), the Vocal Group Hall of Fame, the Songwriters Hall of Fame, the Dance Hall of Fame (the only recording artist to be inducted) and the Rhythm and Blues Music Hall of Fame.
Biography
Early life and the Jackson 5
Michael Joseph Jackson was born in Gary, Indiana, near Chicago, on August 29, 1958. He was the eighth of ten children in the Jackson family, a working-class African-American family living in a two-bedroom house on Michael Street. His mother, Katherine Esther Jackson (née Scruse), played clarinet and piano, had aspired to be a country-and-western performer, and worked part-time at Sears. She was a Jehovah's Witness. His father, Joseph Walter "Joe"Jackson, a former boxer, was a crane operator at U.S. Steel and played guitar with a local rhythm and blues band, the Falcons, to supplement the family's income. Joe's great-grandfather, July "Jack" Gale, was a US Army scout; family lore held that he was also a Native American medicine man. Michael grew up with three sisters (Rebbie, La Toya, and Janet) and five brothers (Jackie, Tito, Jermaine, Marlon, and Randy). A sixth brother, Marlon's twin Brandon, died shortly after birth.
In 1964, Michael and Marlon joined the Jackson Brothers - a band formed by their father which included Jackie, Tito, and Jermaine - as backup musicians playing congas and tambourine. Later in 1964, Michael began sharing lead vocals with Jermaine, and the group's name was changed to the Jackson 5. In 1965, the group won a talent show; Michael performed the dance to Robert Parker's 1965 song "Barefootin'" and sang the Temptations' "My Girl". From 1966 to 1968, the Jacksons 5 toured the Midwest; they frequently played at a string of black clubs known as the Chitlin' Circuit as the opening act for artists such as Sam & Dave, the O'Jays, Gladys Knight, and Etta James. In August 1967, while touring the East Coast, they won a weekly amateur night concert at the Apollo Theater in Harlem.
The Jackson 5 recorded several songs for a Gary record label, Steeltown Records; their first single, "Big Boy", was released in 1968. Bobby Taylor of Bobby Taylor & the Vancouvers brought the Jackson 5 to Motown after they opened for Taylor at Chicago's Regal Theater in 1968. Taylor produced some of their early Motown recordings, including a version of "Who's Lovin' You". After signing with Motown, the Jackson family relocated to Los Angeles. In 1969, Motown executives decided Diana Ross should introduce the Jackson 5 to the public - partly to bolster her career in television - sending off what was considered Motown's last product of its "production line".
In January 1970, "I Want You Back" became the first Jackson 5 song to reach number one on the US Billboard Hot 100; it stayed there for four weeks. Three more singles with Motown topped the chart: "ABC", "The Love You Save", and "I'll Be There". In May 1971, the Jackson family moved into a large house on a two-acre estate in Encino, California. During this period, Michael developed from a child performer into a teen idol.
In 1975, the Jackson 5 left Motown. They signed with Epic Records, a subsidiary of CBS Records, and renamed themselves the Jacksons. Their younger brother Randy joined the band around this time; Jermaine stayed with Motown and pursued a solo career. The Jacksons continued to tour internationally, and released six more albums between 1976 and 1984. Michael, the group's main songwriter during this time, wrote songs such as "Shake Your Body (Down to the Ground)" (1978), "This Place Hotel" (1980), and "Can You Feel It" (1980).
Solo career
Michael began his solo career in 1971 while at Motown Records, but still maintained ties to the Jackson 5 until 1984. His first solo single, "Got to Be There," reached number four on the Billboard Hot 100, and then a cover of "Rockin' Robin" peaked at number two in early 1972. Later that year, "Ben" spent one week at the top of the Billboard Hot 100 and became Michael's first number one single in the US as a solo artist, and also earned him his first Oscar nomination for Best Original Song. Between 1972 and 1975, Michael released a total of four solo studio albums with Motown: Got to Be There (1972), Ben (1972), Music & Me (1973) and Forever, Michael (1975). Alongside all but one of his brothers, Michael left Motown in 1975 and joined Epic Records.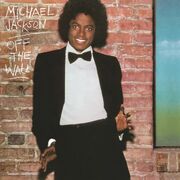 In 1978, Michael starred as the Scarecrow in The Wiz, an urbanised retelling of L. Frank Baum's The Wonderful Wizard of Oz. While working on the soundtrack, Michael met producer Quincy Jones. The pair hit it off and decided to work on Michael's next album. Before recording his next album, Michael desired to create a record not sounding like a Jackson 5 record, but rather showcasing creative freedom and individualism. Michael's fifth solo album, Off the Wall (1979), established him as a solo performer and helped him move from the bubblegum pop of his youth to more complex sounds. The album peaked at number three on the Billboard Top LPs & Tapes chart and number one on the Top Black Albums chart, staying at number one on the latter for 16 weeks, and was an enormous critical success, having sold over 20 million copies worldwide. Five singles were released from the album. Michael wrote three songs, including the Billboard Hot 100 number-one single "Don't Stop 'Til You Get Enough", his first solo number-one single since "Ben" seven years prior. The second single, "Rock with You" also topped the chart. With the "Off the Wall" and "She's Out of My Life" reaching the top 10, Michael became the first solo artist to have four singles from the same album reach the top 10 of the Billboard Hot 100.
In 1980, Michael won three American Music Awards for his solo work: Favorite Soul/R&B Album, Favorite Soul/R&B Male Artist, and Favorite Soul/R&B Single for "Don't Stop 'Til You Get Enough". He also won a Grammy Award for Best Male R&B Vocal Performance for 1979 with "Don't Stop 'Til You Get Enough". At the 1980 Grammy Awards, it was nominated for two Grammy Awards, with Michael winning Best R&B Vocal Performance, Male for "Don't Stop 'Til You Get Enough". In 1981, Michael was the American Music Awards winner for Favorite Soul/R&B Album and Favorite Soul/R&B Male Artist. In 1980, he secured the highest royalty rate in the music industry: 37 percent of wholesale album profit. In 1981, the song "One Day in Your Life" from the album Forever, Michael (1975) was re-released as a single in response to the success of Off the Wall, and became Michael's first solo recording to hit No. 1 on the UK Singles Chart. In 1982, Michael contributed "Someone in the Dark" to the audiobook for the film E.T. the Extra-Terrestrial.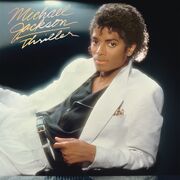 Michael's sixth album, Thriller, was released in late 1982. It was the best-selling album worldwide in 1983, and became Michel's first number one album on the US Billboard Top LPs & Tapes chart, where it spent a record 37 weeks at number one, from February 26, 1983, to April 14, 1984. Seven singles were released from the album: "The Girl Is Mine", "Billie Jean", "Beat It", "Wanna Be Startin' Somethin' ", "Human Nature", "P.Y.T. (Pretty Young Thing)", and "Thriller". They all reached the top 10 on the US Billboard Hot 100 chart, setting the record for the most top 10 singles from an album, with "Beat It" and "Billie Jean" reaching number one. On March 25, 1983, Michael reunited with his brothers for Motown 25: Yesterday, Today, Forever, an NBC television special. The show aired on May 16 to an estimated audience of 47 million, and featured the Jacksons and other Motown stars. Michael's solo performance of "Billie Jean" earned him his first Emmy Award nomination. Wearing a glove decorated with rhinestones, he debuted his moonwalk dance, and it became his signature dance in his repertoire. Following this performance, the sales of the album significantly increased, selling one million copies worldwide per week. The "Thriller" music video, a short horror film directed by John Landis, was premiered to great anticipation in December 1983 and played regularly on MTV, which also increased the sales of the album. Thriller remains the best-selling album of all time, with sales of 70 million copies worldwide. It was inducted into the Grammy Hall of Fame, the Library of Congress' National Recording Registry of "culturally, historically, or aesthetically significant recordings", and the "Thriller" music video was inducted into the National Film Preservation Board's National Film Registry of "culturally, historically, or aesthetically significant films".
Back to the Future
"...Try our La Bamba fajita tortilla pita. It's got a hot salsa, avocados, cilantro mix, with your choice of beans, chicken, be-be-beef, or pork..."
—The Michael Jackson video simulacrum at the Cafe 80's
" The image [of the Ayatollah Khomeini] shifted as the [screaming] voice changed to a gentle falsetto. "Hey, be cool." The image resolved itself to approximate Michael Jackson. "Don't be bad. We're all friends here." The head bobbed around on the screen as if the unseen body beneath might be moonwalking. "
—From Back to the Future Part II by Craig Shaw Gardner (quote, pages 28 and 29)
Michael Jackson popularized the moonwalk, a dance move, in the early 1980s. In 1985 he was still enjoying success from his 1982 album Thriller (which by then had become the best-selling album of all time) and was already one of the most recognizable celebrities in the world.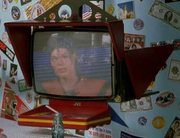 In 2015, a video simulacrum of Jackson appeared in the Cafe 80's, instructing viewers about their choices for the diner's specials. The simulacrum's appearance seems to be based on Jackson's appearance in his human form during the Thriller short film from 1983. Jackson's song "Beat It" from the Thriller album can be heard playing in the Cafe during Marty's initial confrontation with Griff Tannen.
When Marty returned from 2015 to 1985A, the alternate timeline where Biff Tannen was rich and powerful, he found that his bedroom was occupied by Loretta. Had Marty not had to flee the house immediately to escape Lewis, who was wielding a wooden baseball bat, he may have noticed that Loretta was a Jackson fan, with posters from two of his albums: a large Thriller poster adorned the outside of the door, while a smaller Off the Wall poster could be seen on the bedroom wall behind the door. The alteration of the timeline apparently did not prevent Jackson from recording his 1979 album Off the Wall and his 1982 album Thriller, although the content of those recordings would not necessarily have been the same as it would be in the restored 1985.
When Marty travelled from 1955 to 1885 to save the life of Emmett "Doc" Brown, he imitated Jackson's moonwalk step and sang "Billie Jean" before a bewildered Buford Tannen and his gang (who were born a century prior to Jackson's existence) in the Palace Saloon.
Behind the scenes
In real life, Michael Jackson's music career continued to be successful after Thriller, with his follow-up albums Bad (1987), Dangerous (1991), and HIStory: Past, Present and Future, Book I (1995) also being hugely successful, each one featuring hit singles and selling tens of millions of copies. His last studio album Invincible (2001) sold over eight million copies worldwide. Outside of music, Jackson donated and raised millions of dollars for beneficial causes through his Dangerous World Tour, charity singles and support of 39 charities. In total, Jackson donated over $500 million to charity over the course of his life.
In real life, Jackson died of cardiac arrest on June 25, 2009, shortly a month before he was scheduled to make a comeback with a series of fifty sold-out concerts in London, England (the This Is It concert residency series). Coincidentally, all three celebrities simulated by the video waiters died before 2015; Ayatollah Khomeini in 1989 and Ronald Reagan in 2004.
In commentary to the DVD of Part II, Bob Gale noted that "Michael Jackson was a big fan of the first Back to the Future, so he was very co-operative and generous in letting us re-create his likeness and use his music in this." He added that "The guy that played Michael Jackson [referring to E'Casanova (The World's Greatest Michael Jackson Tribute Artist)] who at the time wasn't even in his teens yet, was a joy to work with and very professional.
Coincidentally, Donald Fullilove also provided the voice for young Michael Jackson in the 1971 television cartoon based on the Band before he became a solo artist in The Jackson 5ive. Fullilove's voice is heard immediately before the Jackson simulcra, as he portrays Goldie Wilson III in a commercial.
Discography
During his lifetime, Jackson released ten studio albums, seventy two compilation albums, three soundtrack albums, one live album and seven remix albums. He released 63 of his songs as singles, including eight as a featured artist.
Studio albums
Got to Be There (1972)
Ben (1972)
Music & Me (1973)
Forever, Michael (1975)
Off the Wall (1979)
Thriller (1982)
Bad (1987)
Dangerous (1991)
HIStory: Past, Present and Future, Book I (1995)
Invincible (2001)
Compilation albums
The Best of Michael Jackson (1975)
One Day in Your Life (1981)
18 Greatest Hits (1983)
Anthology (1986)
20th Century Masters – The Millennium Collection: The Best of Michael Jackson (2000)
Love Songs (2002)
Number Ones (2003)
The Ultimate Collection (2004)
The Essential Michael Jackson (2005)
Visionary: The Video Singles (2006)
King of Pop (2008)
The Collection (2009)
Scream (2017)
Other albums (remix, soundtracks, etc.)
E.T. the Extra-Terrestrial (1982)
The Michael Jackson Mix (1987)
Blood on the Dance Floor: HIStory in the Mix (1997)
Thriller – 25th Anniversary Edition (2008)
Michael Jackson's This Is It (2009)
Immortal (2011)
Bad – 25th Anniversary Edition (2012)
Thriller – 40th Anniversary Edition (2022)
Video albums
Moonwalker (1988)
Dangerous: The Short Films (1993)
Video Greatest Hits – HIStory (1995)
HIStory on Film, Volume II (1997)
Number Ones (2003)
The One (2004)
Live in Bucharest: The Dangerous Tour (2005)
Michael Jackson's Vision (2010)
Live at Wembley July 16, 1988 (2012)
Appearances
See also