Milton Baines
Biographical information
Date of birth
1943
Age (1885)
Not yet born
Age (1955)
12[1]
Age (1985)
42
Age (2015)
72
Physical description
Gender
Male
Hair color
Brown
Eye color
Brown
Behind-the-scenes information
Played by
Jason Hervey

  [Source]
"Wow, you have two TVs? You must be rich."
—Milton
Milton Samuel Baines was the second child of Sam and Stella Baines. He was 12 years old in 1955. In 1955, Milton liked to wear a coonskin cap, a fad inspired by the Davy Crockett film and television show. His mother, Stella, took the cap off his head twice while Marty was eating dinner with the family, and Milton put it back on each time.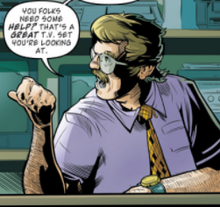 By 1986, Milton worked at a store that sold televisions and other electronic appliances. He now wore glasses and had a moustache. Milton was present to celebrate his brother Joey's return from prison with the rest of his family on May 10, but an argument led to Joey leaving the house.
It is unclear as to whether Milton was still living in Hill Valley in 2015.
Behind the scenes
Appearances
Notes and references
Community content is available under
CC-BY-SA
unless otherwise noted.