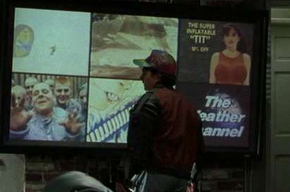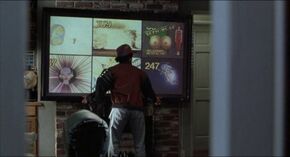 Marty Junior stood in the next room, calling out numbers at a big screen. The screen responded by showing six different pictures for six different television programs. The thing Marty Junior was watching was some sort of giant, multi-channel video screen — a screen that hung crooked on the wall. Jennifer had to push back an urge to rush out there and try to straighten the picture out.From Back to the Future Part II by Craig Shaw Gardner (quote, page 77)
Watching a little TV for a change?Marty McFly Sr. to Marty McFly, Jr.
A multi-channel video screen was a large wall mounted flat-screen television capable of displaying at least six channels at once.
History
Actuality
Appearances
External links