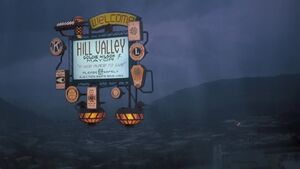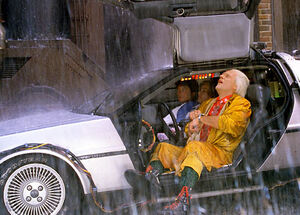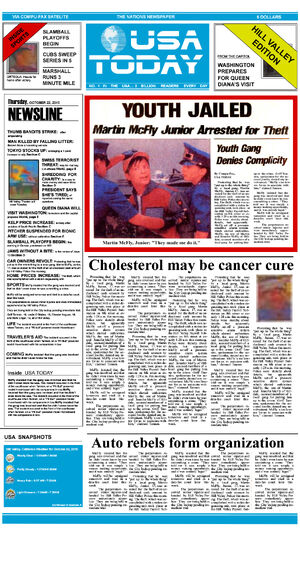 "Doc flipped off half a dozen switches [on the dashboard of the DeLorean time machine]. / 'First,' he told Marty, 'you're going to have to get out and change clothes.' / 'Doc!' Marty pointed at the ongoing flood on the other side of the windshield. 'It's pouring rain!' / 'Oh, right.' / Doc glanced at his watch. / 'Wait three more seconds.' / The rain stopped. Doc's head bobbed with satisfaction. / 'Right on the tick.' He glanced wistfully up at the sky. 'Too bad the post office isn't as efficient as the weather service.' "
—From Back to the Future Part II by Craig Shaw Gardner (quote, page 17)
The National Weather Service reported the weather forecasts in conjunction with Hill Valley Airport's weather station in 1955,[1] and 2015.
History
In 2015, the weather was forecast with extreme accuracy, right down to the second.
The weather on the afternoon of October 21, 2015 was rainy, with the floating skyway sign at the Hill Valley exit ramp on Skyway C25 warning drivers of "RN... [Rain] 20% VIS [Visibility]".
The SKYWAY CONDITION sign in Courthouse Square gave the weather as "OZONE:10.5% ☼ [sunny, represented by sun weather symbol, as here] W → SSE [winds blowing west to south-southeast]".
According to the front page of the October 22, 2015 issue of USA Today, that morning's scheduled weather for the Hill Valley, California area (shown, along with the appropriate weather symbols, on a blue box-out in the bottom left-hand corner) was as follows:
Mostly Clear — 12:00 AM - 1:36 AM
Partly Cloudy — 1:37 AM - 6:36 AM
Heavy Rain — 6:37 AM - 7:23 AM
Light Showers — 7:24 AM - 7:29 AM
Behind the scenes
The government agency in the United States which reports weather forecasts, gives warnings of hazardous weather etc. is called the National Weather Service, formed on

February 9

, 1870.[2]
Actuality
There was no rain in California on October 21, 2015, otherwise known as Back to the Future Day, as the state was at the time experiencing a drought.[3]
Appearances
See also
References
↑ Back to the Future novelization, pages 193 and 194
↑

History of the National Weather Service (see 'External links below')

↑

Rain - Back to the Predictions (see 'External links' below)
External links