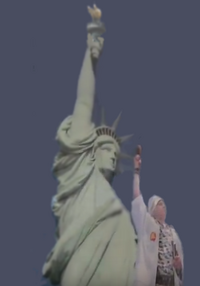 New York was a state in the United States. One of its most popular statues was the Statue of Liberty.
In 1927, Emmett Brown accidentally tried to pay bail to get Marty McFly out of a Chicago prison using currency from 1985. The desk sergeant arrested Doc for using fake currency, as he stated the coins looked like nothing he has ever seen, and the face on one of them looked like Governor Roosevelt from New York.
The New York World's Fair was held in New York between April 30, 1939 and October 31, 1940. It was the second most expansive World's Fair in history, after the Louisiana Purchase Exposition that was held in 1904 in St. Louis, Missouri. Over 44 million people visited its exhibits during the two seasons it was open.
After taking his family in the Jules Verne Train to 1985 to introduce them to Marty McFly and Jennifer Parker, Emmett Brown took to September 21, 1939 to visit the New York World's Fair.
In 1955, George McFly had an issue of Fantastic Story Magazine that included a story titled The Last Man in New York by Paul McNamara.
After being paroled from Folsom Prison in 1986, Joey Baines moved to New York to make a new life for himself.
In 1991, Doc Brown and his dog, Einstein, traveled to New York on March 16, 1953, to witness New York attorney general Nathaniel Goldstein present a model of the Albert Einstein College of Medicine. He introduced his dog Einstein to Albert Einstein himself.
In 1993, Doc hung a photograph of himself holding a chicken drumstick in front of the Statue of Liberty in his chicken restaurant.
Appearances
See also
Community content is available under
CC-BY-SA
unless otherwise noted.