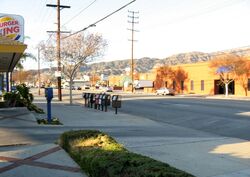 North Victory Boulevard in Burbank, California was the filming location of the exterior of Doc's garage and the Burger King which Dave McFly worked at. In Back To The Future, this was John F. Kennedy Drive in 1985 Hill Valley, formerly Riverside Drive. Marty, riding his skateboard, hitched a ride on a pickup truck that was northward bound, and made his way to Courthouse Square and then to school.
The Burger King still remains at the location at 535 N. Victory Boulevard, but the facade that acted as Doc's garage was removed after filming.
External links
As seen on Google Maps (Note that this includes a "street view", where one can see what the location looks like today).
Community content is available under
CC-BY-SA
unless otherwise noted.