The following events occurred on November 6.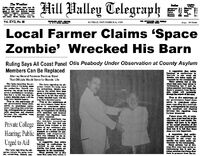 Otis Peabody was sent to the County Asylum after claiming to officials that a "space zombie" crashed into his barn.
Marty McFly hooked up the JVC camcorder to Doc Brown's television set, after they had brought the DeLorean Time Machine back to Doc's garage, at about 12:30 in the morning (according to the clock in the garage). After initial despair that a source could ever be found to generate 1.21 gigawatts to send Marty back to 1985, Doc and Marty learned that a bolt of lightning would strike the Clock Tower on November 12. Soon after, they realized that there was another problem to solve; Marty's interference with his parents' first meeting was jeopardizing his existence.
Doc went to a local Sears & Roebuck store, where he purchased clothing more appropriate for Marty to wear in 1955.[1]
Appearances
References
↑

Mentioned in novelization only, p138