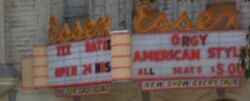 Orgy American Style was a pornographic movie that played at the Essex Theater in 1985. The cost of a ticket was five dollars.
Appearances
Behind the scenes
Not surprisingly, the name Orgy American Style had been used for a pornographic film, in a 1973 X-rated movie by Director Carlos Tobalina and starring Sharon Kelly. However, one of the actors in the 1973 film [1] was George Buck Flower, a character actor who appeared in many films, including Back to the Future and Back to the Future Part II, where he portrayed Red the Bum.
References
↑

www.critcononline.com/george%20buck%20flower.htm; the website "Critical Condition" includes a tribute to the late Mr. Flower.