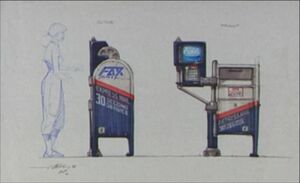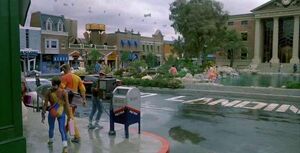 Pac Fax was a fax service run by the U.S. Mail in 2015.
History
Public mailboxes had fax machines built in so that people could send faxes while on the move. One such mailbox was present in Courthouse Square, Hill Valley and advertised a ".05 Second Service".
Behind the scenes
Back to the Predictions spells the name of this fax service as Pac-Fax (with a hyphen, as here).[1]
Actuality
As the movie makers had obviously not foreseen the rise of the internet, and with the rise of email, it appears unlikely the U.S. Mail will set up such a fax service as that seen in Back to the Future Part II.
Appearances
See also
References
↑

Pac-Fax - Back to the Predictions (see 'External links' below)
External links