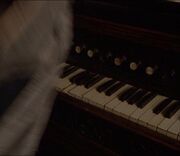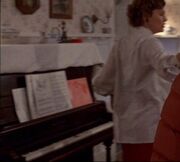 A piano was a type of musical instrument that consisted of 88 keys located on a large frame. The keys were controls to small mallets that struck strings inside the case to produce sound.
History
Marvin Berry & the Starlighters had a pianist.
A white piano was in the dining room of Marty McFly's house in 1985 when he returned from his first trip to 1955. This may indicate his parents were more supportive of Marty's musical aspirations in this timeline. Before Marty altered history, the McFly family was able to afford a small, 44-key electric keyboard, which stood by the sliding door in the living room, but they did not have a piano.
The Baines residence had a piano in the dining room in 1955.
A piano was located inside the Palace Saloon in 1885.
A piano inside El Kid was played by Cue Ball during June 13, 1931 while Matches was interrogating Arthur McFly.
Upon the opening of El Kid, Cue Ball played the piano while singer Trixie Trotter performed on stage in up until August 25 of the same year.
On April 1, 1991, a depressed Doc played If I Only Had a Brain on a piano.
Appearances
Community content is available under
CC-BY-SA
unless otherwise noted.