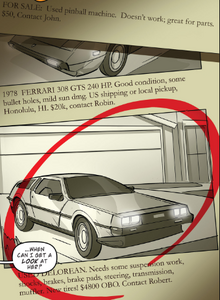 Pinball was a game played inside a box with a glass counter top. A ball was sent racing through a number of bumpers, rails, chutes, and other contraptions for points.
History
When Dr. Emmett Brown received the plutonium from the Libyan terrorists, he gave them a fake bomb full of used pinball machine parts.
The pinball machine in question was purchased by Doc from a Hill Valley resident named John, which he had advertised in the classifieds of the August 11, 1984 issue of the Hill Valley Telegraph.
In Back to the Future: The Game - Episode 3: Citizen Brown, a box full of pinball parts is in the old speakeasy, and Marty McFly expected the parts to be in Libya in the original timeline.
Appearances
See also