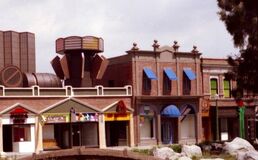 The Pizza Hut restaurant was a pizzeria that belonged to Pizza Hut, and was located in Courthouse Square in 2015.
History
The restaurant had replaced Valley Video[1] (possibly due to the decline of VHS in the late 2000s or the rise of video rental businesses switching to internet mail order or vending machine by the 2010s).
Lorraine McFly possibly bought the dehydrated pizza in this restaurant.
Behind the scenes
Actuality
The current Pizza Hut logo, which has been in use since 1999, is very different to that shown on the restaurant's signage.
Pizza Hut is still commonly known in reality during the actual 2015
Appearances
See also
References
External links