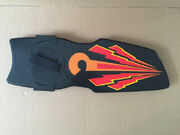 The Question Mark hoverboard is a design of hoverboard available in 2015.
History
A hoverboard like this was ridden by one of Griff's gang members, Spike, to chase Marty McFly around the Courthouse Square before she was arrested.
Description
The hoverboard is painted black with a red pointy question mark in the middle with lightning bolts surrounding it. On the underside, there are lots more question marks, as well as other doodles like a face drawn on the rear hoverdisk and the words "Odd Man Out!" and "The Thrrilll".
Appearances