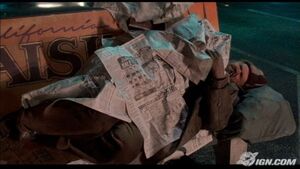 Raisins were one of California's major crops, and were a popular type of food.
An advertisement for California Raisins was on the bus stop bench in Courthouse Square that Red the Bum slept on in 1985. After returning from 1955, Marty McFly jumped over the bench as he started running toward Twin Pines Mall.
In 2015, when Marty McFly Jr. ordered the fruit dispenser to lower from the ceiling above the kitchen table, it was mostly filled, not with raisins, but red and green grapes.
Behind the scenes
By early 1985, California raisin growers had been faced with large surpluses of raisins for several years due to the fact that although they prepared for an increase in demand for California wine, wine imported from other countries had actually decreased the demand for California wine and grapes. Clyde Neff, the manager of the California Raisin Board, announced they would spend $50,000 on advertising campaigns tied to the upcoming motion picture, Back to the Future, and that raisins would be "a story element in the film", [1] in order to encourage their use, as the previous year's film E.T. the Extraterrestrial had made Reese's Pieces candy more popular.[2]
The Board spent $25,000 promoting a sweepstakes in which six Toyota pickups were given away as grand prizes. An additional $25,000 was paid to the product placement department at Universal, to place references to raisins in two scenes of a bus stop bench, and one scene of Michael J. Fox snacking on them.[3] The film's distributor would also run a series of pre-release print ads in which raisins were featured.
Unaware that the Board had already paid Universal the full amount, the scene of Marty munching on raisins was left out of the film, since, as Bob Gale explained, a bowl full of raisins would photograph like a "bowl full of dirt".[4] The only placement left in the film was on a bench upon which Red the Bum was seen sleeping when Marty returned from 1955. "When the California Raisin Board saw it," recounted Gale, "they were livid."[5] The Board members threatened to sue, but when they received a refund check for $25,000, they decided to let the issue stand.[6]
Appearances
References
Community content is available under
CC-BY-SA
unless otherwise noted.