"Doc, devi prendere più rincorsa. Non abbiamo abbastanza strada per arrivare a 88."
—Marty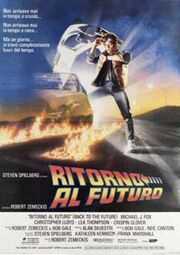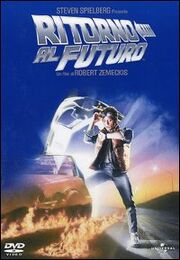 "Strade? Dove stiamo andando, non c'è bisogno di... strade."
—Doc
Ritorno al futuro is the Italian-dubbed version of Back to the Future. Following the redubbing of dialogue by Italian actors, the film was released in Italy on October 18, 1985. Back to the Future proved to be very popular in Italy, so much that the producers of another film with Michael J. Fox, Teen Wolf, in addition to the Italian dubs renamed the main character of Scott to "Marty" to help associate fans of Fox and Back to the Future with it.
Cast
Script
Differences between the Italian script, which can be found at www.outatime.it, and the original include:
Marty McFly says, "Uhh... Superstereo!" instead of "Whoa, rock 'n' roll" because it's American slang for the music genre "rock".
Mr. Strickland describes Marty as "un buono a nulla" (literally, "a good for nothing").
The flux capacitor is translated as "il flusso canalizzatore".
Doc's exclamation of "Great Scott!" was rendered as "Bontà divina!" ("Divine goodness!") in the first film and "Grande Giove!" ("Great Jupiter[/Zeus]!") in the second and the third ones. 
Rather than wanting to find out who will win the next 25 World Series, Doc says he'll see who wins the soccer championships for the next 25 years, which is a more accurate statement that the Spanish version, which states that Doc is interested in seeing "who won the next 25

World Cups

", which would be impossible to see in a 1/4 century.
At Lou's Cafe, Marty orders a

Fanta

. Then Lou says: "Vuoi della fantascienza per colazione?" ("You want some science fiction for breakfast?") Then Marty asks for a Pepsi Free (translated as "Pepsi senza [zucchero]", "Pepsi without [sugar]") and Lou asks: "Senza che? Se intendi "senza pagare" hai sbagliato porta." ("Without what? If you mean "without paying" you [are entered from the wrong] door").
Lorraine observes the name written on Marty's clothing, and concludes that his name is "

Levi Strauss

" (although she calls him "Levis").
When Milton Baines asks how Marty has seen the first run episode of The Honeymooners already, Marty says that he saw it on a videocassette; the word 'rerun' doesn't translate, as there was no such thing in Italy at the time.
Rather than The Saturday Evening Post, Doc guesses that Marty is selling a subscription to a science magazine. When Marty says that Ronald Reagan is President in 1985, Doc says "I suppose Marilyn Monroe is the

First Lady

!" While the joke about Jack Benny as Secretary of the Treasury doesn't translate, Doc says "And John Wayne is the Minister of War!"

Unlike Jane Wyman, Marilyn Monroe never married with Ronald Reagan.

At Lou's Cafe, George doesn't confuse

density

and destiny. Instead, he mixes up "delfino" (dolphin) and "destino" (destiny).