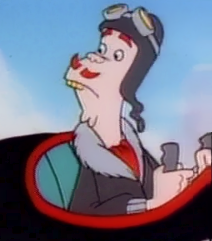 Roris Von Hinklehuffins Flying Circus
was a stunt show in which
Roris Von Hinklehuffins
performed dangerous stunts in his
biplane
. On
August 5
,
1926
the circus performed in
Milwaukee
,
Wisconsin
.
Marty McFly, Jules Brown, and Verne Brown traveled from Hill Valley in 1991 to Milwaukee in 1926 to attempt to prevent an accident that caused Emmett Brown to have a fear of fishing. Instead, Emmett's line got tangled on the Hinklehuffins biplane. Emmett's stunt was recorded, and it caused him to become a silent film star when his Uncle Oliver signed a film contract with the director D.W. Tannen. After it became apparent that Tannen didn't care about Emmett's well-being, Oliver terminated Emmett's contract. Emmett's experience as a stuntman in his youth caused him to no longer have his fear as a grown man.
Appearances
Community content is available under
CC-BY-SA
unless otherwise noted.