Sally Flora Baines
Biographical information
Date of birth
1949
Age (1955)
6
Age (1985)
36
Age (2015)
66
Physical description
Gender
Female
Hair color
Brown (1955), Red (1986)
Eye color
Brown
Behind-the-scenes information
Played by
Maia Brewton

  [Source]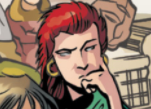 Sally Flora Baines was the third child of Sam and Stella Baines. She was born in 1949.
In 1955, she was present when Marty McFly had dinner with her family, but did not speak.
By 1986, Sally had at least two children. When Marty McFly was investigating the circumstances of her brother Joey's arrest, she could not offer any useful information. She was present at Joey's prison release celebration on May 10.
It is unclear as to whether Sally was still living in Hill Valley in 2015.
Behind the scenes
Sally was portrayed by actress Maia Brewton, who was seven years old when the scene was filmed. In 1987, she co-starred with Elisabeth Shue (Jennifer Parker of Part II and Part III) in the comedy Adventures in Babysitting (also known as A Night on the Town). She appeared on two episodes of The Wonder Years, which reunited her with her Back to the Future big brother, Jason Hervey, who portrayed Milton Baines.
Appearances
Community content is available under
CC-BY-SA
unless otherwise noted.