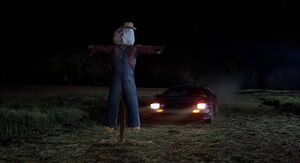 Behind his [Marty's] head, gauges and indicators began to light up, lines of digits formed and disappeared on the dashboard, and something like a siren sounded. What had he done? Blown a fuse? Driven the engine past its limits? Touched something he should have left alone? / His eyes quickly scanned the dashboard for some clue to the mystery. As he did so, he was suddenly conscious of a large object rising ahead of him, an object that had not been in his line of sight a moment before. Jerking his head up, he saw not the guard rail and arc lamps of the Twin Pines shopping mall — but the face of a scarecrow! / "What the hell —" / As abruptly as it appeared, the scarecrow disappeared, its crude head smashing against the windshield and falling away in a spray of straw. Then another object loomed — a large square building. From Back to the Future by George Gipe (quote, pages 67 and 68)
A scarecrow was a dummy figure stuffed with straw and dressed in old clothes, used by farmers to scare birds away from their crops.
History
Behind the scenes
A scarecrow is also known as a hay-man in England.
Appearances
See also