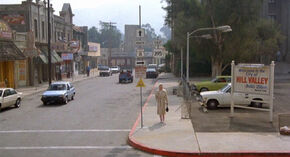 Second Street was a street that ran through Hill Valley, starting at the Hill Valley Railroad Station, intersecting with Main Street at Courthouse Square, and ending at the Town Theater at Hubbard Avenue. In 1985, U.S. Route 395 passed through Hill Valley along Second Street.
History
In 1885, the Second Street Gunsmith Shop was located on Second Street, as mentioned in the caption below a photo of Buford Tannen and the deceased Lazy J riders. Marty McFly walked past the gunsmith shop on his way from the railroad station to the Palace Saloon.
In 1955, two signs marking "2nd St." and two signs marking Route 395 stood to the left of the Bank of America building. Although the stationery for Lou's Cafe showed an address of "Hill and Main", the Essex Theater was at that intersection, and Lou's was one block away at Second and Main, on the site of the old Palace Saloon. It is possible that Marty's letter to Doc was written on older letterhead from a former address.
On the night of November 12, 1955. Marty drove the DeLorean time machine up Second Street to reach the lightning bolt at the clock tower. Soon thereafter, a second version of Marty ran onto Second Street from behind the courthouse to encounter Doc. Upon re-entering 1985, the DeLorean containing the first Marty exited out of temporal displacement the end of Second Street, and collided with the front door of the Assembly of Christ church (formerly the Town Theater).
Gallery
Appearances
Community content is available under
CC-BY-SA
unless otherwise noted.