Secret Cinema presents Back to the Future was an immersive film-experience produced by Secret Cinema at the Queen Elizabeth Olympic Park in Stratford near London, England between July and August 2014. As part of the event, the Back to the Future film was screened outdoors, projected onto a pillar-less replica fascia of the Hill Valley Courthouse.
Production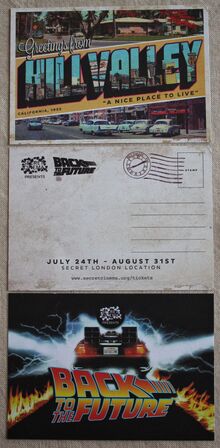 The production was based around the town of Hill Valley in 1955, where Mayor Red Thomas was organizing the 1955 Hill Valley Town Fair to celebrate 70 years of the iconic clock tower. Although the event took place on 22 separate dates over a one-month period, each performance gave the impression that it was the day of the fair and attendees were residents of Hill Valley. Prior to the event, ticket holders had been asked to register their details on the Hill Valley Community Services website, where they had been assigned an identity which they could use as the basis for their character once they attended the event.
The event took place inside a recreation of Hill Valley in 1955, featuring life-size immersive sets inspired by locations like Twin Pines Ranch (complete with live animals), the Tannen residence, the Baines residence, the McFly residence, Doc Brown's mansion, Hill Valley High School, the Courthouse Square including Hill Valley Courthouse, a fully-functioning Lou's Cafe, and many other local businesses from the surrounding Hill Street, Main Street, and Second Street.
Over 80 actors playing key characters from the film, extras, and stunt performers acted out scenes from Back to the Future, involving the fair attendees, and improvising dialogue based on the audience reactions and participation.
Reception
After attending three times, Bob Gale said of the event, "Great Scott! Secret Cinema's presentation of BTTF is absolutely fantastic, and a must for any BTTF fan who can go! They've done an amazing job on every level. The cast, who play characters from the film and various townspeople, is outstanding. They are all in character the entire evening and do wonderful improvisations with the audience. […] Giga-kudos to Fabien Riggall and everyone at Secret Cinema for one of the finest BTTF experiences in history!"[1]
Hill Valley Stores
On July 11, 2014, a few weeks before the main events took place, Secret Cinema opened Hill Valley Stores at 59 Hackney Road, London, where they created two shops inspired by the movie which between them included a functioning Lou's Cafe Express, Elite Salon, Roy's Records, Ruth's Frock Shop, Hill Valley Post Office, and Hill Valley TV and Radio, selling 1950s costumes, props, and other memorabilia.
Memorabilia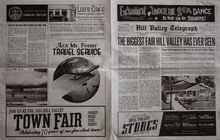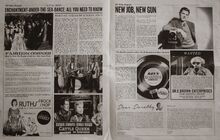 Many collectible items were created especially for the event, which were made available at Hill Valley Stores and inside the venue, including a special edition of the Hill Valley Telegraph, a newspaper poster and map, t-shirts, postcards, flags, rosettes, and paper cups.
See also
References
External links
Community content is available under
CC-BY-SA
unless otherwise noted.