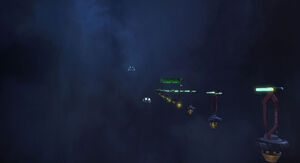 Skyway C25 was a skyway that ran from downtown Hill Valley to Hilldale in 2015, and which was designated vector twelve by air traffic control.[1]
History
The DeLorean time machine appeared in the middle of Skyway C25 in the wrong lane and facing oncoming traffic on its arrival in 2015 from Lyon Estates in 1985, almost colliding with a taxicab.
The skyway became jammed — or "SKEWED ON", to quote the SKYWAY CONDITION sign in Courthouse Square — on October 21.
Appearances
See also
References
External links
Community content is available under
CC-BY-SA
unless otherwise noted.