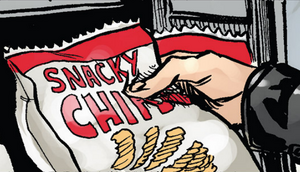 Snacky Chips was a brand of potato chip that was sold at 7-Eleven in Hill Valley in 1984.
Douglas J. Needles picked up a bag of Snacky Chips and threw it in the clerk's face when told he had to make a purchase or leave the store.
After Needles was done harassing Marty McFly and Jennifer Parker, he picked up the bag of chips and threw it in the clerk's face again, saying that he had changed his mind about purchasing the chips due to the cholesterol content.
Behind the scenes
Potato chips are known as potato crisps in the U.K.
Appearances
See also