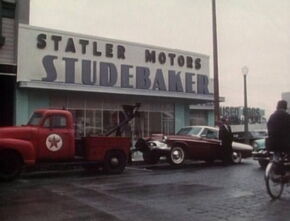 "This was the most interesting oddity in Hill Valley, at least in Marty's opinion. He liked cars, new and old, and the Studebaker held a special place in his heart because, like the Edsel, it thrived and became extinct more or less during Marty's lifetime. / He looked in the showroom for a few moments, then studied the used cars in an adjoining lot. / "These would be worth a lot in 1985," he murmured, "even the clunker on the right." / The four used cars on display ranged from $950 to a bargain-basement $395. All were clean-looking and had a brief bit of praise written in white on the windshield: "Sharp, Clean," "Low Mileage," "A steal at $450," and "Runs Good" for the clunker. Marty felt the urge to give them a spin, but he knew no salesman would allow a teenager to do so, especially in this day and age."
—From Back to the Future by George Gipe (quote, pages 84 and 5)
Statler Studebaker was a Studebaker automotive dealer in 1955, located in Courthouse Square.
As of this business, the Statler family already had a long history of dealing transportation to residents of Hill Valley. According to an advertisement in the Hill Valley Telegraph, Statler Motors Studebaker had been in operation since 1928, with its dealership located at the corner of Second Street and Hubbard Avenue. It was open Monday to Saturday from 9:00 a.m. to 5:00 p.m.
Appearances