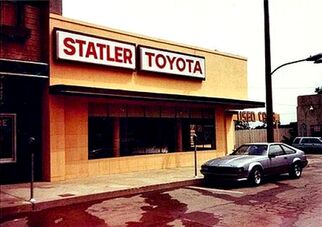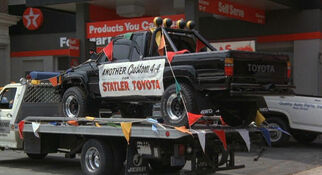 Statler Toyota was a Toyota dealership in Hill Valley owned by the Statler family. It sold the truck given to Marty McFly in 1985.
In the timeline where Biff Tannen controlled Hill Valley, a store named PIG Mart, that sold adult books and "love toys", sat on the site.
On October 21, 2015, in the timeline where Marty McFly posed as his son to prevent him from going to prison, a Pontiac dealership was located in the plot of land in Courthouse Square where Statler Toyota was located in 1985.
In the timeline before Dr. Emmett Brown prevented a nuclear holocaust from occurring in 2045, a series of commercials for Statler Toyota aired in 2015. They featured Jimmy Joe Statler wearing multiple ties, and a hover car was visible in the reflection of the window. If Statler Toyota was in business in the timeline where Marty posed as his son, it had moved locations prior to October 21, 2015.
Behind the scenes
The cars that were unveiled in the real life Toyota commercials, Statler Toyota 2015 and Statler Toyota 2015 Reminder, were a 2016 Toyota Mirai powered by a hydrogen fuel cell which could be powered by hydrogen converted by waste, inspired by the Mr. Fusion, and a 2016 Toyota Tacoma inspired by the Marty McFly's Toyota Hilux.
Dialing the number that was displayed on the screen during the commericals, 1-877-STATLER, would connect to an automated message system featuring the voice of the Jimmy Joe Statler. Pressing option '2' would allow the caller to receive a free Statler Toyota license plate holder.
Appearances
Statler Toyota 2015 and Statler Toyota 2015 Reminder commercials