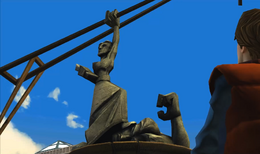 A statue of First Citizen Brown was present in the Courthouse Square of 1986G. It depicted a younger Emmett Brown triumphantly standing on Kid Tannen, while holding a large metal object over his head. The metal object could be rotated when pushed, which Marty McFly used to his advantage to block a security camera's view.
The statue celebrated Emmett Brown's defeat of Kid Tannen on August 25, 1931 with the use of his rocket car. In reality, the capture had been performed by Marty McFly and an older Emmett Brown. Nevertheless, the plaque on the statue credited Emmett alone for capturing Tannen.
The plaque read:
"Commemorating on the 25th day of August, this year of our lord, nineteen hundred, thirty-one, the capture and incarceration of Irving "Kid" Tannen, and the disbanding of his criminal syndicate by the heroic efforts and ingenious mind of our beloved First Citizen Emmet [sic] Lathrop Brown by virtue of his experimental rocket car."
Appearances
Community content is available under
CC-BY-SA
unless otherwise noted.