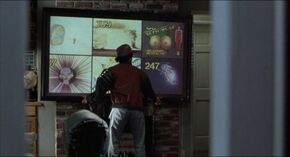 The Super Inflatable 'TIT' was one of two special types of breast implants in 2015, offered by Bottoms Up as part of its "2 for 1" sale, the other being the Headlight 'TIT'.
A television commercial for this special offer was shown on channel 63, one of the six channels watched by Marty Jr. on the multi-channel video screen at the McFly residence.
According to the commercial, the Super Inflatable 'TIT' was intended for "that last minute adjustment".
Appearances
See also
External links
Community content is available under
CC-BY-SA
unless otherwise noted.