Thérèse de Dillmont
Biographical information
Date of birth
October 10, 1846
Age (1885)
39
Physical description
Gender
Female
Behind-the-scenes information

  [Source]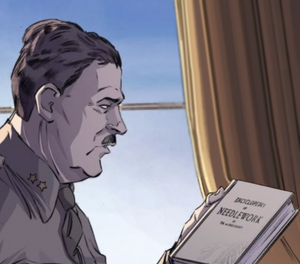 Thérèse de Dillmont (October 10, 1846 – May 22, 1890) was an Austrian needleworker and writer. Her book, Encyclopedia of Needlework, was translated into many different languages.
In 1943, Leslie Groves found the Encyclopedia of Needlework on a table at the home that Dr. Emmett Brown was pretending was his own. When Groves asked Brown if he was a fan of needlework, Emmett responded by stating that he believed that anything could inspire a breakthrough, and that he didn't like to discount anything. Vannevar Bush appreciated that answer, which helped lead to Doc getting a job working on the Manhattan Project, despite the fact that the men were aware that the interview did not actually take place at Emmett's residence.
Appearances
See also