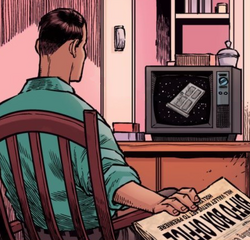 The Twilight Zone was a fantasy science fiction horror television series that aired on CBS between 1959 and 1964.
Marty McFly made a reference to the show when he stated to Emmett Brown in 1955 that he "must be in the Twilight Zone". Doc found Marty's usage of the phrase as peculiar, and added "in a zone of twilight, neither here nor there, a middle ground, between light and shadow, between things and ideas...". Marty replied "Yeah I know, there's a signpost up ahead, you've just crossed over--"
Marty later used the Twilight Zone as a reference to scare George while as "Darth Vader".
On November 6, 1960, in an alternate timeline, George McFly watched The Twilight Zone, while Lorraine Baines McFly answered the door. A limousine had been sent by Biff Tannen, who became angered when George told him that it was over, as he and Lorraine were married and she was pregnant.
Appearances
See also
Community content is available under
CC-BY-SA
unless otherwise noted.