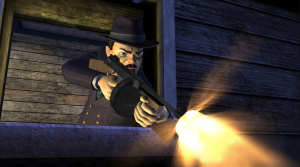 The Thompson submachine gun, commonly known as the tommy gun, was invented in 1918, and became infamous due to its use by gangsters during the Prohibition era.
In 1927, a gunsel and a gangster from a rival gang fired tommy guns at Arnie "Eggs" Benedict and other members of his gang.
In 1931, Kid Tannen fired a tommy gun at Marty McFly and Officer Danny Parker after Marty convinced Trixie Trotter to release evidence that would allow Danny to arrest Tannen and his gang.
Appearances
External links