"Continuing past the Studebaker lot, he [Marty] stopped in front of the Town Theater, a marvelously typical piece of art deco from the 1930s. A basic tan-colored tower rose above its green marquee and red tile entrance, which was lined with display shots of its current attractions, The Atomic Kid, starring Mickey Rooney and Robert Strauss."
—From Back to the Future by George Gipe (page 85)
"Well, would you look at that! The old Town Theater!"
The Town Theater was a movie theater in Hill Valley in 1931-1955.
History
On both November 5 and November 12, 1955, the Town's featured attraction was the 1954 film, The Atomic Kid, starring Mickey Rooney. By November, the film had been out for almost a year.
By 1985, the downtown theater had stopped showing movies and had become the gathering place for the Assembly of Christ church in Hill Valley. While the Town Theater had become a house of worship, its rival, the Essex Theater, had become an X-rated movie house by 1985.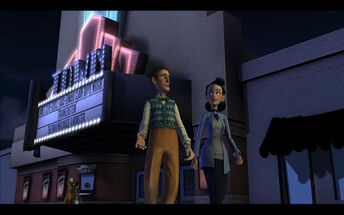 On November 12, 1955, Marty McFly drove the DeLorean time machine at 88 miles per hour toward the entrance of the Town Theater, hoping to make connection with a lightning-charged wire and to go back to the future, rather than colliding with the theater. Although it was a Saturday night, the theater had apparently closed for the night by 10:04 that evening. The collision with the building would not happen until nearly thirty years later, when Marty skipped across the intervening decades.
On October 26, 1985, at 1:23 in the morning, Marty McFly crashed into the front of the Town Theater at the speed of almost 88 miles per hour, knocking down the entrance and part of the front wall. Miraculously, Marty was uninjured in his collision with the Assembly of Christ building, and even the DeLorean was unscathed.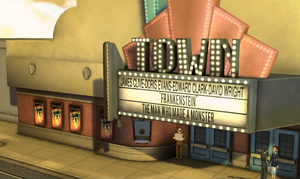 On the evening of August 25, 1931, Arthur McFly came to watch a showing of Frankenstein. A young Emmett Brown later went to the theater to watch the same movie, which further inspired him in his career in science (though a change in his timeline prevented him from going to the theater).
The movie was still playing in the theater as of October 12, 1931 and was viewed three times by a time traveling Citizen Brown.
In the 1971G timeline, it was ordered by Edna Strickland that the theater be torn down as she felt movies corrupted the younger generation.
Appearances
Community content is available under
CC-BY-SA
unless otherwise noted.