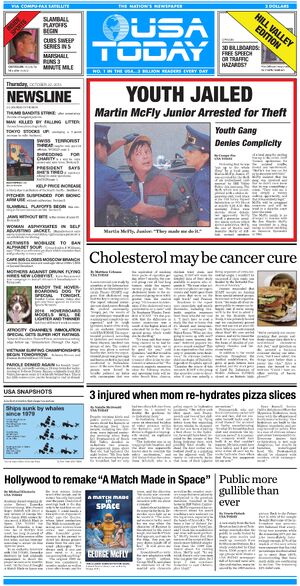 USA Snapshots was an infographic on the front page of USA Today, which appeared beneath the Newsline column. According to the introductory line, this was "a look at statistics that shape the nation".
History
For the October 22, 2015[1] issue of USA Today, the subject was "Ships sunk by whales since 1979" by Tom Miller, the source of which was the publication Singh's Book of Sunken Ships.
The pale blue box-out gave the following statistical information, each of which was accompanied by a graphic depicting a sinking ship and a whale:
31,000 Tons
Rounding Cape Horn
24,000 Tons
Cape of Good Hope
18,500 Tons
Bad Ganja Key
Appearances
See also
References
↑ Special "front page wrap" for real life October 22, 2015 issue of USA Today (see 'External links' below)
External links
Community content is available under
CC-BY-SA
unless otherwise noted.