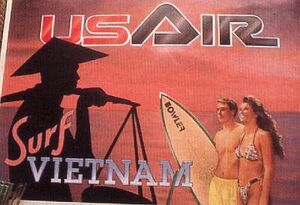 USAir was an airline that remained in operation in 2015, in the original timeline. They offered flights to Vietnam for surfers.
History
A commercial for USAir's service to Vietnam was also shown on The Weather Channel, one of the six television channels viewed by Marty Jr. on the multi-channel video screen at the McFly residence.
Actuality
In 1997, the real-life USAir rebranded itself as 'US Airways', retiring the 'USAir' name completely. The USAir logo that appears on the billboard in 2015 Hill Valley was used from 1979 until May 1989, and was out of use six months before Back to the Future Part II was even released.
By 2015, even US Airways would be gone. Under terms of a merger agreement with American Airlines, announced in February, 2013, the former USAir and US Airways properties were rebranded as 'American Airlines' on October 17, 2015, exactly four days before Doc, Marty and Jennifer arrive from 1985.
Neither USAir, nor its successor, American Airlines, offered direct flights to Vietnam after relations between the U.S. and Vietnam were re-established in 1995, but it is possible to get reservations on flights, through American-based airlines, to Vietnam. These are by way of Hong Kong or Tokyo, and involve cooperation with other carriers.
Appearances
See also
External links
Community content is available under
CC-BY-SA
unless otherwise noted.