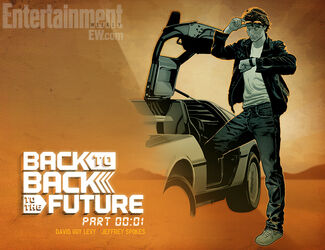 Here's your daily dose of strangely awesome (and awesomely strange) -- Writer, director, producer, and all-around renaissance man David Guy Levy, whose film resume includes strangely alluring numbers like
Terri
and
Would You Rather
, has written a six-part digital comic series cleverly titled
Back to Back to The Future
. Something of a meta-narrative, the comic series follows the BTTF filmmakers as they travel back in time to ensure Eric Stoltz, who was originally cast as Marty McFly, doesn't get replaced by Michael J. Fox. It's weird, sure, but it seems offbeat enough to actually work.
Check out the first issue for free 06/25/back-to-back-to-the- future-comic-book/?ew_ packageID=20647938 exclusively on EW's comic book site.
The first half of the series will be free, with issues in the second half running for a mere $2 a piece. Best of all, David Guy Levy will be donating all of the proceeds to the Young Storytellers Foundation, a group that focuses on developing literacy via the exploration of storytelling. So buying these issues is a win-win for all parties involved.
Here's a video of Guy Levy discussing both his new project and the YSF:
---
---
Community content is available under
CC-BY-SA
unless otherwise noted.