Back to the Future turns 30 this year. I can't believe so much time has passed since I was first introduced to the crazy and unexpectedly hilarious duo of Marty McFly and Emmett Brown.
Telltale Games has decided to commemorate the 30th Anniversary by releasing a special edition of the Back to the Future: The Game. It will feature new voice overs from Thomas F. Wilson, interviews with Bob Gale and the development team, and AJ LoCascio, who does the voice of young Marty. The game will be rereleased on October 13th, 2015, just days before Marty arrives in the future (our present) on October 21, 2015. It will be available to play on Playstation 4, XBox ONE, and XBox 360. [1]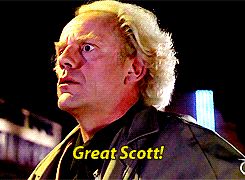 Who else is excited about the new features on the BTTF:The Game? Share why in the comments below!
References