Welcome IsaacBTTF!
Hello and welcome to the Back to the Future Wiki. I hope you like the place and choose to join our work. Here are a few good links for newcomers: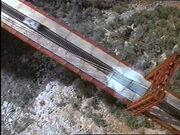 Internal pages:
External Wikipedia pages:

Remember that you should always sign your comments on talk and vote pages using four tildes, like this: ~~~~.
I hope you enjoy editing here and being a historian! If you have any questions, see the help pages, add a question to the Cafe 80's, or ask me on my talk page. Your friend in time, — Riffsyphon1024 08:01, August 11, 2011 (UTC)
I know the above template is a little late as I've seen you have contributed greatly to the wiki already. I do appreciate the help and hope you can continue to do more of the same in... the future. ;) --

Riffsyphon

1024

08:05, August 11, 2011 (UTC)
Done
I reversed the edit on Back to the Future Part IV. I'm not sure what the proper way of reversing edits like that are, but my advice is a copy/paste job. Antiyonder (talk) 14:41, January 13, 2014 (UTC)
Thanks mate :)IsaacBTTF (talk) 15:34, January 13, 2014 (UTC)
On the note of edit reversals
If someone does multiple spam edits or multiple edits vandalizations, you can actually undo it much easier by choosing the "rollback" option. Reverses the page to the edits made by the previous user. Antiyonder (talk) 20:01, October 12, 2014 (UTC)
The problem Antiyonder is that sometimes the person who does the vandalism does an edit and then a 2nd  edit. So if I press undo on his last edit, the page reverses to the page made by the previous user. But in this case, it reverses to the first edit made by the guy vandalisin the page and not your edit or my edit or anyone who have actually done proper edits. I hope I'm not confusing you with my language (english isn't my first language so it isn't always easy for me to express myself in english PLUS I'm tired at the moment.)
That's only if you choose undo. If say you made an edit to Marty McFly, then someone does 3 vandal/spam edits in a row, Rollback will revert back to your edit. You do notice the Rollback option, correct? Antiyonder (talk) 22:38, October 12, 2014 (UTC)
Actually I have no idea where this Rollback option is. If you could tell where it is... IsaacBTTF (talk) 06:04, October 13, 2014 (UTC)
Yeah. Go on the History of whichever article needs to be reverted. On the recent edit, the option should be presented like this: (rollback | undo) Antiyonder (talk) 06:13, October 13, 2014 (UTC)
I unless I'm going blind, I'm not seeing any rollback button
Maybe some users have it only. You might have to ask Riff about it when he's back on. Antiyonder (talk) 09:49, October 13, 2014 (UTC)
Community content is available under
CC-BY-SA
unless otherwise noted.